GlobalETA: Explore, Travel, Adventure
Not your daughter's travel blog.

---

Who We Are

Founded in May 2016, GlobalETA travel and outdoors digital library and blog provides you with the resources you need to learn all about global travel and outdoor activities, including information on worldwide destinations, hiking and backpacking, women's travel, ethical and queer travel, and more.

While ETA usually refers to "Estimated Time of Arrival," for us it stands for "Explore, Travel, and Adventure!"

​

The site was created and is maintained by Karla J. Strand with help from my partner, Sarah, and our trusty dog, Duo. We love travel, hiking, backpacking, sunshine, the sea, forests, State and National Parks, history, music, culture, food, drink, and more. Karla is a librarian for the University of Wisconsin and loves the challenge of curating and cataloging the internet in her free time. Sarah takes a lot of the photos and Duo provides the comic relief.

---

---

---

Our values

We believe in the transformative power of travel, nature, and the outdoors in the growth of compassion, understanding, and empowerment, especially when combined with the right information. We value ethical and sustainable travel, that which does not exploit local communities, nature, or wild animals but that seeks to empower and celebrate them. This is why we aim to gather and provide you with only the best resources on the web that you can use to prepare for a trip, learn about the culture and history of a destination, get involved with a local organization, explore a new activity, or expand your knowledge base of travel, nature, and the outdoors.

Start your adventure here!

The main feature of this site is a

travel and outdoors Digital Library

which includes resources vetted by a librarian (me!) to ensure their quality, currency, and authority. These include websites, organizations, articles, reviews, reports, gear lists, and more, and they are all in one place, for free. You know, because it's a library!

Not your daughter's travel blog.

We also maintain a

Blog

which is focused primarily on travel but will also include photo essays, gear and book reviews, and perhaps the occasional rant! The GlobalETA blog is unlike other travel blogs you may have read in that it is focused on 35+ travelers, the Gen Xers who are now all grown up and may even have grown kids of their own. It's for those of us who've sowed our wild oats and while we are still looking for adventure, we no longer stay in the hostel dorms... we've moved on to the private rooms at the hostel! We don't stay up all night to drink but instead to see a volcano's glowing lava or to catch the first rays of a new day (although we still enjoy a few sundowners before dinner). You won't find stories of our Sunday Fundays or photos of us in skimpy bikinis (but you do you, ladies!). What you will find are real women - independent, strong, and smart women - traveling throughout the world to learn about cultures and history, engage with the people, breathe in the air and land, and have authentic experiences that aren't always easy or glamorous. While we've (mostly) moved on from hostels, we aren't luxury travelers either. We would gladly take tented camps in Namibia, forest cottages in Puerto Rico, or beach huts in Nicaragua over five-star hotels any day! We also love the lure of the open road and road trip any chance we get. If we happen to be short on funds or only have the weekend away from our full-time responsibilities, we love to take the day to explore our own backyards. If you'd rather see the world via two lane road, off the beaten track, with a pack on your back, or if you're new to travel, then take a look at the blog. We are truly not your daughter's travel blog!

We'd love to hear from you, so please

contact us

if you have any feedback.
---
Psst: Don't see your favorite resource in the library? Want us to consider including your site, article, or blog post? ​Care to write a guest blog? Interested in advertising here or partnering with GlobalETA? ​
Contact us!
​​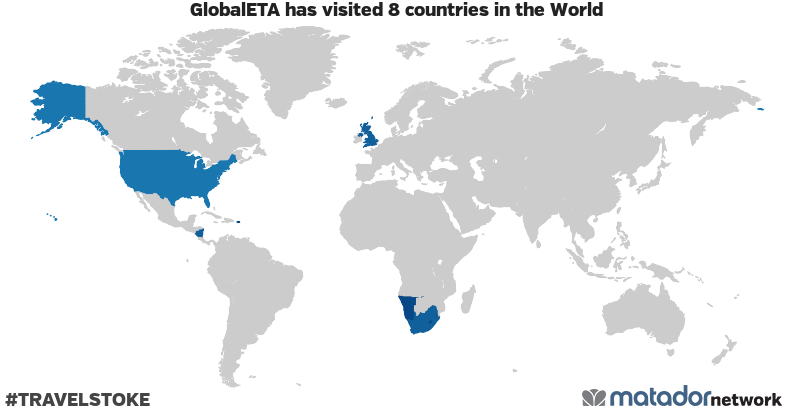 GlobalETA has been to: Lesotho, Namibia, Nicaragua, Puerto Rico, South Africa, Swaziland, United Kingdom, United States.
Get your own travel map from Matador Network.